A kitchen remodel is by no means a small project, but it can be a worthwhile one if your kitchen is outdated, you aren't happy with the layout, or it no longer matches up with your lifestyle or meets your current needs. After all, besides the bathroom, the kitchen is one of the most important rooms in your home, and functionality is a must if you want to do any cooking or entertaining. There are many factors to take into consideration before starting a kitchen remodel to ensure that it goes smoothly. Start off by asking yourself the 5 questions below, and you'll be well on your way to a positive remodeling experience.
Are you respecting the architectural elements and structure of your home?
Before you completely fall in love with a design layout, make sure that your home can support it. Meet with a trusted design-build contractor to go over your design ideas. They'll be able to help you determine which layouts will work best with the structure of your home, so you can walk away with a beautifully designed kitchen instead of walking into a structural disaster.
It's also important to consider other design elements and overall architectural style. Ideally, you want the kitchen to flow with everything else in your home, creating a synchronized feeling as you go from room to room. That's not to say that you can't have different design themes. However, if you have an older home, and the kitchen contains the original crown molding, you may want to think twice before ripping it out. A kitchen can still be updated without losing its architectural integrity.
How do you plan on using your kitchen?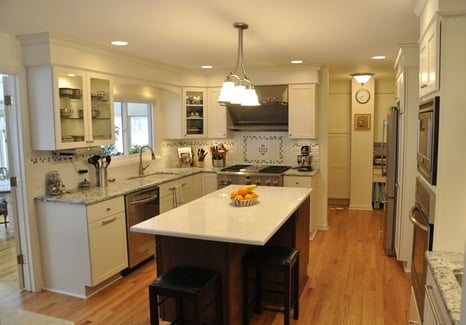 How you plan on using your kitchen will have a big impact on its layout and storage options. Do you love to cook? Then be sure to have the counter space needed for food preparation, as well as enough cabinets or shelving to store all the tools you'll need. If you prefer to cook alone, space may not be as much of an issue. However, sharing cooking duties with someone else, or having company in the kitchen, will mean allowing for enough space so you won't constantly be in the way of one another.
If you enjoy entertaining, and want the kitchen to be at the center of the party, consider adding in a kitchen island to create a centralized space for people to gather or sit around and converse. You may also want the kitchen to feel more connected to other rooms of the home, so consider making a larger entry way connecting the living room to the kitchen, or do without a separating wall altogether if the structure of your home allows for it.
Have you budgeted accordingly to your wants and needs?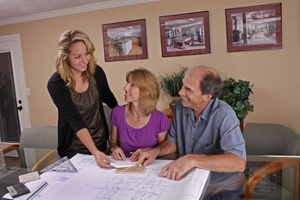 Once you've settled on a theme for your kitchen and a layout that suits your needs, think about both your wants and needs for your newly remodeled kitchen. What can you not do without under any circumstances? Which things would you consider to be categorized more as wants rather than needs? It can be helpful to make two different lists.
Be sure that you budget yourself so you have enough money to cover the necessities, and then anything left over can be put towards those fancy faucets and the top of the line fridge that you don't necessarily need for a functioning kitchen, but are nice to have. The last thing you want to do is end up with the fancy extras, but not the things you consider a necessity, like a new hood to go over the stove, or an updated sink to replace your old one.
How long will you be able to function without a kitchen?
Plan accordingly for a span of time where it will be easiest to work around not having a kitchen. For example, if you usually have guests over or relatives visiting during a specific time of year, you'll likely want to avoid this time for your kitchen remodel. You may want to consider the warmer months when it's easier to grill and eat outside.
Either way, a proper kitchen remodel will take time. Go over the timeline with your design-build contractor so you can get a general idea of how long your project will take. Every timeline will be different depending on what your specific remodel involves. Keep in mind too that this timeline can shift if something unexpected occurs.
Do you trust your contractor?
With the kitchen being one of the most important rooms in your home for a functioning household, it's important that you trust the contractor you hire, and feel confident in their ability to do the job well. Be sure to hire someone who has plenty of experience. Consider the design-build team at McClurg, who specialize in home remodeling and repairs.
Looking for more home remodeling ideas and advice? Feel free to contact us! We're here to help make your home remodeling dreams a reality.